When I first started surfing it was 1989, I was already 12 years old, when I over heard some kids from school saying they were going to the beach in the morning to go surfing. Little did I know that this was when my life was about to become all consumed with the feeling of gliding across the face of waves!
By 1991 I had started to compete in small club contests, although they never felt small to me! coming up through the ranks at club and county level, I soon started to compete on the National stage, at this point I would like to thank my Dad for the endless hours of driving, relentless hours of hanging about in carparks, and on beaches in wet, windy and generally unsurfable surf conditions, and my Mum for putting up with the endless amount of sand that would get walked through the house ( and the rest! 😉 )
This all opened the door to the European Tour (although not without the help of ex British champ, all round shredder and top bloke Richard Carter who encouraged me out of the pub one afternoon, put a cheque in my hand and sent me packing off to Portugal! thankyou Rich, will never forget that) the European tour soon became part of the WQS (World Qualifying Series). Top tip to any kids out there wanting to be a professional surfer (and their parents!) you better love sitting in car parks!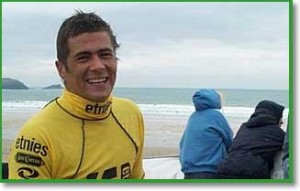 As I was making my way on to the main stage, I started coaching with the O'neill surf academy as well as taking part in training camps in Spain and France, I must of been about 23 years old when I started coaching and I loved it, what I loved the most was by practicing my pop up and how I turn a board on land through demo's, my own surfing improved massively, so when I came off tour I helped to set up a surf school 'Surfing Croyde Bay' in the UK.
It was here that I realised the idea, that by putting yourself through a few basic land based core drills for just a few minutes a day, that you can dramatically improve your technique while out of the water, especially with intermediate to advanced surfers who are landlocked a lot of the time, and can not get the consistency of time in the water, but would love a way to take their surfing to the next level ...and now they can! Through simulation training you can develop your technique and build good muscle memory on land, maximizing your time out of the water with a routine designed around you.
Interested to see what it would be like to coach overseas I moved out to Lanzarote, after a season on the island I was offered the chance to coach over in Morocco where with a flow of good people and good waves I ended up spending 7 years. I have now returned to the U.K, where you will find me not only coaching on the beaches but now documenting all my coaching and putting it here for you all to see.
With mysurflessons.com I've now started to work a lot with online video coaching, Riders send in video or shots of them surfing, or just answer a few simple questions via email, and I break it down in to their own personalised tutorial video, for examples of this be sure to check out my Online video coaching page. If you are interested feel free to sign up today or email me at [email protected]
I have now been surfing for over 30 years and I am still fully qualified beach lifeguard. If you continue to scroll down past the jazzy pictures of me surfing and coaching, you will see Ive put up a video of some of my lifeguard skills in action!. Thanks for reading x
every days a school day people!